Ordering Information
To ensure your order is properly handled, please complete these two steps:
1. Fill out the Order Contact Form below. Upon submission, you will remain on the Merchandise page
2. Complete your purchase through PayPal.  You will not be required to login to PayPal and can use a credit card for payment.  Add the items you wish to purchase to your PayPal cart by clicking the "Add to Cart" button below each item.  You can return to the merchandise page to add additional items. Your order is not complete until you pay for your items through PayPal.
Interested in bulk orders? Please complete the below contact form or email sales@deadheadstories.org.
Deadhead Stories Book
$45/each
+ $5.00 shipping + tax
All book orders include a bookmark!
Publish Date: May 12, 2019
Package Deals for Books with T-shirts and/or Prints Available Below
Laura Dowling T-shirt
$25/each
+ $5.00 shipping + tax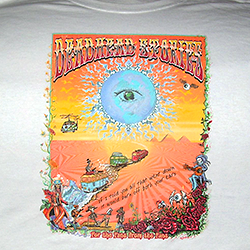 Mike DuBois T-shirt
$25/each
+ $5.00 shipping + tax
Hannah Hopkins T-shirt
$25/each
+ $5.00 shipping + tax
Mike DuBois Prints
Limited Quantity – Artist Autographed and Numbered
'If I Told You All That Went Down'
$75/each
+ $5.00 shipping + tax
(1) Book, (1) Mike DuBois Print & (1) T-shirt
$140
+ $10.00 shipping + tax
(1) Book, (1) Mike DuBois Print & (3) T-shirts
$190
+ $10.00 shipping + tax
(1) Book & (1) Mike DuBois Print
$105
+ $5.00 shipping + tax